It's no secret that a home garden does wonders for your home and family. A lush front garden adds a wow factor to your curb appeal. A well-maintained lawn is a reflection of your admirable traits as a homeowner. 
Similarly, a backyard filled with blooms and greens creates a perfect outdoor oasis for your family and guests. They're perfect venues for quiet afternoons and double as festive backdrops for summer parties. 
Apart from aesthetics, a home garden allows you to grow your food and become self-sufficient. Moreover, gardening strengthens your bond with nature and makes great pastimes with your children.  
But gardening isn't all fun and games. It takes considerable time and effort to grow a vibrant, healthy garden and keep it as such. While a green thumb can give you an edge, it pays to know several tricks. Whether you choose a flower, vegetable, or container garden, you'll surely help it thrive with these best-kept secrets from the pros.
The Secrets Revealed
Amazing home gardens don't grow overnight, but they will surely bloom and flourish if you apply these tips and tricks. These pointers include starting a garden from scratch until you finally realize the garden of your dreams.
Plan Your Plot
All great gardens start with a plan. Planning helps you envision your garden's appearance when all your plants are grown. 
For starters, you'll need to select a location with lots of sunshine and an accessible water source. It should be as flat as possible and have good drainage. In addition, you should also consider your convenience. It's best to choose a spot near your window, door, or driveway so you can easily visit your garden no matter the time of day. 
Next, you'll need to layout your garden. If you're planting several at once, you can use your garden map to place them in the best spots. Don't forget to include adequate spacing. Remember that your plants won't stay as seedlings for long and will need enough space to grow.
Start With Good Soil
Healthy soil is another gardener's best-kept secret. Soil gives plants access to essential nutrients, water, and air. And so, good soil serves as the foundation of a vibrant garden. While loamy soil is best for planting, don't fret if you don't have it in your yard. You can always buy amendments and even include some organic compost to enrich your garden soil. 
Experts also recommend having a soil test kit. This tool determines your soil's pH and the absence of one or more of the three crucial nutrients—nitrogen, phosphorus, and potassium. Regular soil testing helps you determine when to add a new soil layer or when to add fertilizers.   
Choose Your Plants
Once your beds are ready, it's time to plant what you want and love. But before you do, inspect your plants to ensure they're fresh and pest-free. Look for seedlings that have a healthy top and firm, white, and evenly-spaced roots.  
Aside from ensuring plant quality, you can also opt for disease-resistant varieties such as beans, broccoli, and carrots. These plants can withstand most diseases and are also resilient against pests, making them ideal for cultivation.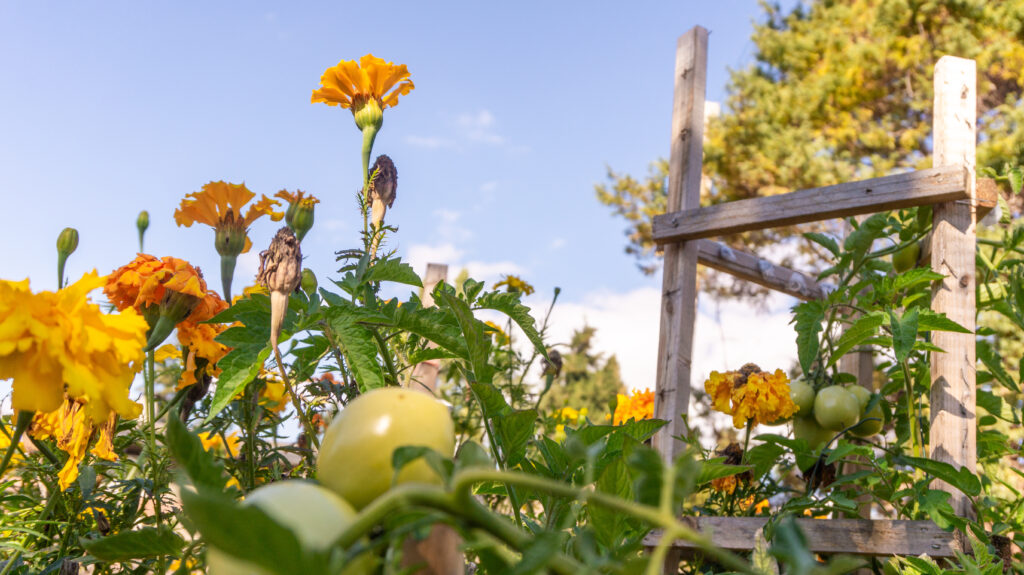 Water Wisely  
The right amount of water and timing is also crucial to a healthy garden. Avoid underwatering or overwatering your plants as this will stunt their growth and even attract diseases. A pro tip: allow the soil to dry between waterings. It would be best if you also watered the ground directly to keep the plant from getting wet.  
A watering can is great for small gardens. However, if you have a larger span, you can opt for a drip irrigation system to ensure your plants get enough water. Likewise, the best time to water your plants is early morning and late afternoon.  
Support Plant Growth
Providing enough water and nutrient-rich soil can make your plants eager to grow. Also, giving them enough space allows your plants to thrive. This practice reduces competition between plants and can help improve your garden landscape.   
Apart from planting in rows or squares, you can also get creative by transforming old household items into flower pots or garden containers. You can also use stakes or a trellis to guide their growth. 
Moreover, you can encourage plant growth with regular trimming and pruning. Removing unwanted plant parts such as dead flowers, rotten leaves, or snipping off branches can also make your garden stand out.
Protect From Pests
Buds, fruits, and shoots indicate that your plants are growing well. Soon, your garden will be in full bloom. While this is undoubtedly a milestone, you'll need to keep it that way until you reap the fruits of your labor. 
You have to be on the lookout for pests, both large and small. A wire fence prevents animals from entering and destroying your garden. If you're worried about insects, you can plant marigolds and mint to keep them at bay. Alternately, you can add a small pond to attract toads or place a birdhouse so birds can eat those pesky bugs.
Ward Off Weeds
Weeds can threaten your vibrant garden. They can take up garden space and compete with your plants for water and nutrients. They can also hinder plant growth. Worse, they may even overtake your garden. 
These harmful plants can be tough to eliminate. They can also stage notorious comebacks that it takes a strong and effective weed killer to kill them. That is why you need to ward weeds off your garden. When choosing a weed killer, remember to explore garden-friendly options to ensure that it will not affect your plants or your harvest.
Consider Companion Planting
Another way to ensure a healthy garden is to combine different plants. Companion planting allows plants to grow together while providing mutual benefits.  
Large plants can shield smaller ones from excessive sun and wind. Combining tall plants and vines enables gardeners to maximize space. Tall plants grow skyward and provide support to vines that cover the ground. Flowers and herbs help deter pests, while some may even improve soil conditions for other plants. 
Some beneficial plant pairings include roses and garlic, marigolds and melons, tomatoes and cucumbers, corn and beans. Plus, adding vegetables into your garden mix can make it a sustainable source of fresh produce. Consequently, planting flowers alongside your vegetables also makes it more colorful.
Spread The Word
The ultimate secret to a healthy home garden is to keep plants free from diseases. Newbie and seasoned gardeners can achieve this by providing their plants with much-needed nutrients, sunlight, air, and water. Doing so also ensures continuous growth. When choosing plants, high-quality seedlings are crucial in starting a garden. Carefully selected companion plants ward away pests and other animals. All these combine to make your dream garden a reality.