Ready to leave winter behind? Yeah, we thought so! If you're of a mind to do a headfirst somersault into spring, throwing a cookout is the perfect way to do it. Trust us — you'll forget about those winter blues once you're behind the grill with a cold beverage in hand, inhaling the heavenly aroma of grilled meat. So, where to begin on the planning for your spring BBQ? We've got the tips and tricks that will make your first spring cookout a smokin' good time, so read up on them here — then go forth and grill. 
Clean up your grill and get it ready to rock.
Whether your weapon of choice is your trusty old charcoal or a state-of-the-art WiFi pellet grill, take some time to get it in good shape. Start with a top-to-bottom cleaning, especially if you didn't thoroughly clean it before you put it away for the winter. (Remember that some types of grills require special cleaning techniques; for example, you don't want to use dish soap on a kamado grill.) It's also a good idea to fire it up and make sure it's still in good working order — and hey, once you've got it hot, why not make your first steak of the season?
Think about whether to host it at your home or a public space.
If you've got a decked-out patio (no pun intended) with amenities like a fire pit or outdoor kitchen kit, your backyard is probably where it's at. In fact, you've probably been waiting to use it all winter, so take the chance to cut loose on your home turf! On the other hand, a BBQ in a public park can be lots of fun if you have a close-knit community and want an atmosphere where friends and neighbors can pop in and out. A park can provide more space if you have a small (or nonexistent) backyard, although you might want to bring your own portable grill if you don't want to cook on a rusty, beat-up public BBQ. 
Keep the food fresh and seasonal when you can.
Spring is the perfect time to get into all kinds of fresh, local and seasonal goodies. For starters, farmer's markets will begin to fill up with produce around late April or May, so explore a bit and find some tasty seasonal staples for your sides and salads. Spring is also an excellent time for seafood favorites. Trout and mahi-mahi are at their peak of freshness if you're looking for a fish for the grill, and various types of crab are also in season. Lamb, meanwhile, is the undisputed champ of spring meats, although pork and chicken are also great choices for the springtime grill.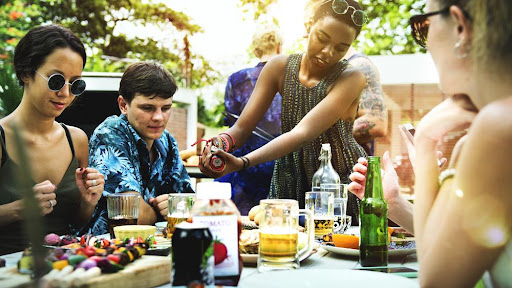 Make it a potluck affair.
Making your spring cookout a potluck will take some of the stress off you and allow your guests to step up with their own culinary creativity. If you've got friends who aren't kitchen-inclined, they can always bring items like potato chips or plates and napkins. One common method is for the host to cook the main course, such as a BBQ pork butt or a batch of burgers, while guests bring their favorite sides and desserts. Pro tip: An informal group chat about who's bringing what will help ensure you don't end up with too much of the same thing! 
Include a wine, beer or whiskey tasting.
A little tasting of your favorite beverages could be just the kind of palate-tickling spring fun that your guests will love. Remember, at a cookout, you don't have to spit them out after you taste them! Set up a selection of wines, whiskies, beers or whatever kind of beverage you prefer, along with tasting notes for each one. If you're having a more formal sit-down dinner, you might consider establishing pairings for each course. For those who live in an area with a strong brewing, distilling or winemaking scene, this is also a superb opportunity to showcase your local favorites! Ask if they've got any seasonal spring selections available.
Decorate with a vibrant spring theme.
Spring is the ideal time to get funky and fresh with your decorations. Tip number one: Think bright! It's the season for colorful decorating, so don't be afraid to go for vivid greens, blues, purples, pinks and yellows. On that note, just about any spring decorating guide will tell you to bring in some flowers and other fresh plants for a lively touch, and that's because it's a decor element that really works! Whether they're garlands or bouquets or wreaths, these live decorations will get everybody in the spring mindset.
Turn up with some live music.
Want to give your guests a spring cookout they'll truly never forget? Live music could be the magic ingredient. If you've got musically talented friends and you think your guests will vibe with their music, see if they're up for doing a casual performance at your cookout. Do be aware of neighborhood etiquette here: Even if your friends would all love to hear cranked-up rock 'n' roll on a sunny May afternoon, your neighbors might not, so consider things like how far you are from adjoining properties and how loud the music will be.
Be ready for rain. 
Nobody likes to think about their BBQ getting rained out, but in most climates, it's a relevant concern during spring. First off, investing in a grill canopy or grill umbrella is a great idea, as this can allow you to keep grilling if the rain isn't too heavy. However, there's always the possibility that conditions will get truly torrential, in which case you'll need a contingency plan. Have some indoor spaces available that folks can move to, and a backup plan for what to do, such as playing party games and ordering takeout. It'll certainly be a little frustrating, but it's a good reminder that life is all about going with the flow.
If you've read this far, you're well on your way to a legendary spring cookout! Now it's time to make those dreams a reality — so start drawing up the guest list and planning your marinades, because you've got some grilling to do.