A kitchen can be the heart of a home, and that is why it is important to furnish it with pieces that are not only practical but also reflect your personality. There are many decisions that need to be made when furnishing a new kitchen, and it can feel like you're making too many of them. But if you know how to prioritize your decisions, the process will become much easier. 
In this blog post, we'll cover some of the most important aspects of designing your new space- from choosing countertops to picking out appliances. By the time you're finished reading, you'll have a much better idea of how to create a kitchen that's perfect for your lifestyle.
Which cabinet color should I go for?
People who prefer a simple and clean look should opt for white or light cabinets. Those who like things more ornate might want dark wood with decorative handles. 
However, there are many other choices that fall in between these two extremes. You can find kitchen cabinet colors in just about any shade imaginable- from beige to black and even gray. 
Which material to choose?
The material used is another important factor when it comes to choosing your kitchen's color scheme because the type of surface you pick can make a huge difference aesthetically. 
For instance, if you decide on glossy lacquer cupboards, they'll give off a bright shine that reflects whatever lights are above them. In contrast, matte finishes will have a more subtle look.
Another thing to consider is how easy the material is to clean- if you have kids or pets, you'll want something that can be quickly and easily wiped down. Laminate is a good choice in this case, as it doesn't show fingerprints or smudges and can be easily dusted.
What about the countertops?
The material that your countertops are made out of is another important decision to make. They can be constructed from a variety of materials like granite, marble, wood, or even plastic. 
Each type has its own advantages and disadvantages- for instance, granite is scratch resistant but marble can stain more easily. You'll also need to decide how big your countertops should be. It might make sense to get a smaller one if you have limited storage space.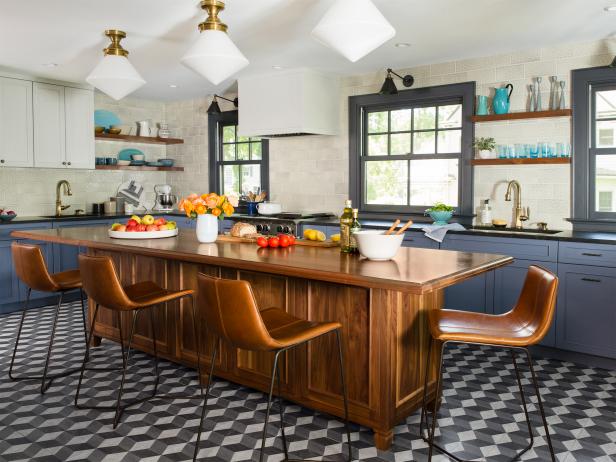 What furniture should I buy?
There are countless pieces of furniture that can be used in a kitchen, and it might feel overwhelming, to begin with. The best way to start is by choosing the most essential items- like your countertops or appliances. 
If your kitchen has space for a dining area and you want to turn it into an open-concept dining room, you might want to consider purchasing kitchen tables and dining chairs. 
If your kitchen is small or has limited counter space, opting for a breakfast bar is a better option. Just get pretty stools for placing against counters and be sure to leave enough room for people to get in and out of the kitchen easily.
Once you have a basic idea of what you need, it will be easier to start looking at specific pieces. For example, if your kitchen is short on storage space, you might want to consider buying an island with built-in cabinets. This way, you'll have a convenient place to put all of your pots and pans without taking up valuable floor space.
What kind of appliances should I buy?
Appliances are often an afterthought, but they can play a huge role in determining how functional your kitchen is and what types of activities you'll find yourself doing there on a daily basis. 
To start with, decide whether or not you want to go for traditional cooking over using electric stoves that offer more power at the push of a button. 
Other factors like dishwasher size and refrigerator capacity will also impact how much freedom you have when hosting dinner parties. 
Once again, budget plays an important role here so don't forget to figure out exactly how much money you're willing to spend. 
Budget restrictions? Consider buying used appliances or going low end on one appliance if high end on others. For example, buy a cheap dishwasher and an expensive refrigerator. This will still give you better functionality than if you had two mid-range priced appliances. Low-end appliances tend to break down more often so it is better to have one high-end appliance that will last for a long time.
Final Verdict
There are many other things to think about when furnishing a kitchen, but these are some of the most important considerations. By taking your time and planning ahead, you'll be sure to create a space that's perfect for your needs.