Cooking at home is obviously cheaper than eating out or ordering food. In addition to saving a lot of money every day, you can also keep a better track of your health by eating nutritious home-cooked meals. 
Whether you find cooking therapeutic or you're living alone for the first time, we're sharing some useful tips for saving money in the kitchen. Take a look. 
1. Buy in Bulk
Instead of shopping at your regular grocery store, go to bulk stores that offer discounted prices. Buy things like flour, legumes, beans and other pantry staples that have a long shelf life in bulk.
2. Shop with a List
Never go grocery shopping hungry or without a list. You'll end up buying things you don't need. Instead, prepare a meal plan for the week and accordingly make a shopping list to ensure you buy only what you need.
3. Start Meal Prepping
If you're too busy to cook every day, take out some time on the weekend to prepare meals for the entire week.
4. Switch to Generic Brands
Pantry staples from generic brands are nearly the same quality as name-brands but at a much lower price. So buy those when you have a tight budget but still want to cook at home.
5. Invest in Energy-Efficient Appliances
If you are always cooking and baking, then you probably consider your oven and other kitchen appliances as your prized possessions. For better performance and lower utility costs, you should replace outdated appliances with energy-efficient versions. For additional savings, compare electricity and switch to an affordable energy plan. Explore Red Energy reviews to find a suitable plan for your home.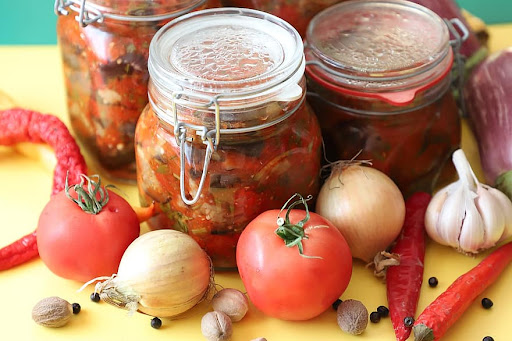 6. Buy High-Quality Cookware
Poor quality cookware cooks food unevenly and makes cleaning a nightmare. Buy high-grade cookware that will make cooking easier.
7. Use Your Freezer
Is your loaf of bread going to expire soon? Are vegetables losing their freshness? You can prevent several food items from going bad by simply freezing them. Frozen bread can last you up to six months, while different vegetables can stay frozen for six months to a year.
8. Reuse Glass Containers
Juices, spices and condiments are packaged in glass containers that you can easily repurpose for kitchen storage. You can further save by buying refills instead of a new bottle.
8. Reuse Glass Containers
9. Get a Crockpot for Cooking
After a tiring day at work, ordering takeout from your favourite restaurant sounds perfect. Who wants to go through the hassle of chopping vegetables, pre-heating the oven and then cleaning up?
A crockpot or a slow cooker will make cooking a breeze. You can throw everything in the pot, set a timer and you're done! Not only does a crock pot do a fantastic job of bringing out flavours of cheap cuts of meat, but it also requires much less energy than a stove and oven. And it's one-pot cooking so you don't have to wash too many dishes. 
10. Save Food Scraps
You are probably throwing away onion peels, carrot ends, coriander stems and other food scraps, which are extremely nutritious. Instead of throwing them away, keep them in a zip lock bag and store it in the freezer. After you have collected a good amount of scraps, put them in a pot of boiling water and simmer it down to make vegetable stock. This stock will give your gravies and soups an extra boost of flavour.
11. Buy Seasonal & Local Produce
Seasonal and local produce is often affordable and healthier. You can also buy seasonal vegetables in bulk and freeze them for future use.
Final Words
Don't let your mediocre cooking skills discourage you from making meals at home. You can easily find budget-friendly recipes on the internet. Give them a try and you'll surely become better with practice.
To find out more about how you can save energy expense, reach out to Electricity Wizard.