Minivans make for some of the most viable and practical family-friendly vehicles, and though sales for minivans such as the Honda Odyssey have been drastically plummeting in the USA over the last decade, there are still many really appealing options out there and not just from the Honda minivan range. Many of these family runabouts come outfitted with a variety of comfort and convenience-focused features such as a fully comprehensive infotainment system, highly-adjustable and configurable seats, and multi-zone climate control. There are, however, a handful of uncommon features that are less likely to be found in any other types of car, and are usually on the more luxurious side of things.
Foot Swipe Open Doors
Most minivans come with either one or two side-integrated sliding doors that make it easier for passengers to enter the mid and rearmost seats. They're perhaps also a little easier to open than conventional doors, an advantage for busy dads or moms with their hands full trying to get everyone and/or everything on board, and managing multiple things at the same time. Well, to make things even easier, some minivan models, such as the Chrysler Pacifica, are offered with foot-activated sliding doors – a convenience feature that uses sensors located beneath the side skirtings of the minivan, that when prompted with a swipe of a foot, will begin opening the sliding door on the respective side, automatically.
Heated and Cooled Seats
Heated and ventilated seats are relatively common in most premium and top-tier trim cars. However, these features are not typically offered for back seat passengers, with most just catering to front occupants. That being said, many minivans are offered with heating and ventilation in the second row seats, though they usually have to be opted into captain chairs each of which are typically larger than the seats that make up a three-seater bench, are more adjustable, and allow for more folding configurations. The seating spec is well worth it if you don't need room for more than six or seven passengers, as captains chairs only come in pairs.
Heated seats can make those early commutes during the icy cold winter mornings a little more bearable as they warm up your back and legs. Cooled seats are a blessing during the blistering summer months as they help keep you cool whilst driving and stop you from sweating and prevent your back and legs from sticking to the surface of your seat. Heating and ventilation are offered for the top-tier trim of the Chrysler Pacifica Limited and in the Kia Sedona SX and SX Limited.
Second-Row Lounge Chairs
A step up from regular captains chairs, lounge chairs, which are available in minivans such as the Toyota Sienna and Kia Sedona, are luxuriously comfy, large in size, and offer plenty of functionality such as adjustable headrests, reclining seatbacks and retractable footrests. They're the pinnacle of seating luxury in any vehicle and are rather expensive to opt in. Though most people are not likely going to opt these in for their children to feel like kings and queens in and mess their ham and cheese sandwiches on, they're great for taking granny and grandpa on holiday with or just a good choice for a luxury taxi service.
In-Car Vacuum Cleaner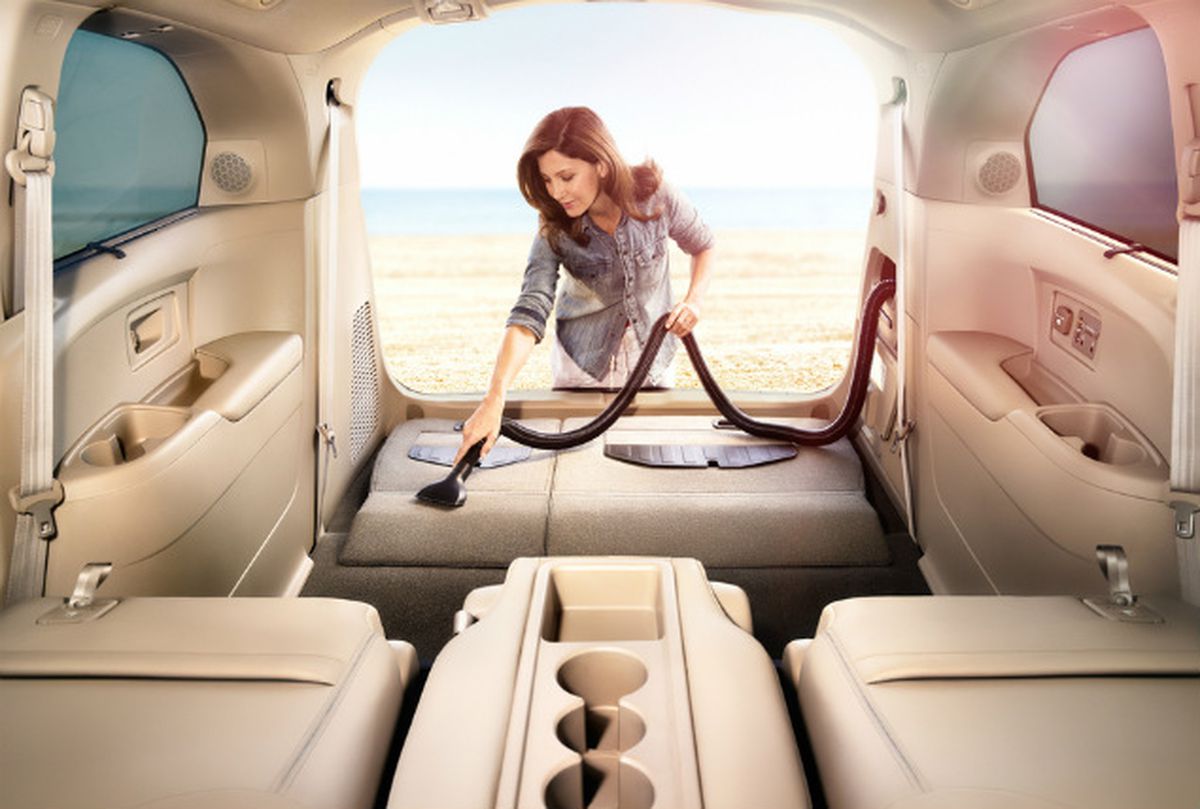 An in-car vacuum cleaner can be the best addition to any minivan that shuttles a young and budding family about on a regular basis. They make it really easy and convenient to quickly clean up any dirt and debris brought in by foot traffic and to quickly deal with dropped food and dog hair. Only certain models of the all-new Chrysler Pacifica and Honda Odyssey come equipped with in-car vacuum cleaners at present. In the Pacifica, the system is called the Stow 'n Vac and is located in the second-row of the minivan making it rather convenient to get to all corners of the cabin. In the Odyssey, the HondaVAC apparatus is located in the cargo area and can reach throughout the cabin.
Driver Speaker system
Found only in the Toyota Sienna, the Easy-Speak speaker system utilizes a dash-integrated microphone to amplify the driver or front passengers voice through the rear cabin speakers to rear passengers. This makes it a lot easier for the front occupants to communicate with people in the rear as they wont need to raise their voices or turn backward. It's an excellent safety element, too, as the driver won't need to take his/her eyes off of the road when speaking with passengers.
Crossover SUVs have proven to be significantly more popular than minivans in recent years despite minivans being more practical family runabouts in comparison. SUVs may offer a confidence-inspiring, commanding driving position, space for up to eight passengers in some cases, and many many modern creature comforts and conveniences, but with all the above nifty and mostly very luxurious features available for minivans, maybe more people with budding families will be inclined to get one.