Introduction
The world has been trying to achieve the ideology of sustainable development. Among various other factors, electricity plays a very important role in shaping our environment. It has been observed that too much use of electricity has actually depleted the extent of fossil fuels. Therefore the earth has been looking for an alternative or renewable source of energy that can provide electricity. 
A solar energy system is such an alternative or renewable source of energy. And that solar system which has the capability of battery storage and a backup is called an off-grid solar system. The solar system generates electricity usually whenever there is a power cut or at night. The components of a solar system are solar panels, solar inverter,  battery, balancing of the system, etc. An off-grid solar system works on these four components. It works when the solar panels absorb the sun's rays and store them in the batteries. To use it for DC  appliances one has to use a charge controller and in the case of AC appliances, one has to use an inverter. 
In the market, there is also an availability of off-grid solar kits. Off-grid solar kits are one which can give one more customizable or classic Solar kit which includes charge controllers, standalone inverter or charger, AGM battery options, etc. However, these off-grid solar kits are not designed for selling power back to the grid. However, they are capable of using grid or generator power to charge the battery bank. 
Solar panels are required to run a house off-grid
The exact number cannot be determined regarding the solar panels which can run an entire house in an off-grid situation. This is because every house has different appliances at the home of various different voltage. Two houses that might have the same area might have different appliances at home with different voltages. However, through various studies, a recommendation can be carved out regarding the solar panels that can be used for running an entire house off-grid. For example, if a house is of 3 or 4 BHK and it has appliances like a refrigerator or washing machine 3 to 4 lights or bulbs fans iron etc, a minimum of four Shark solar panels which can provide efficiency of about 22% will be enough. And a 2.5 kVA solar system which consists of 1 inverter and two batteries is enough for this type of house.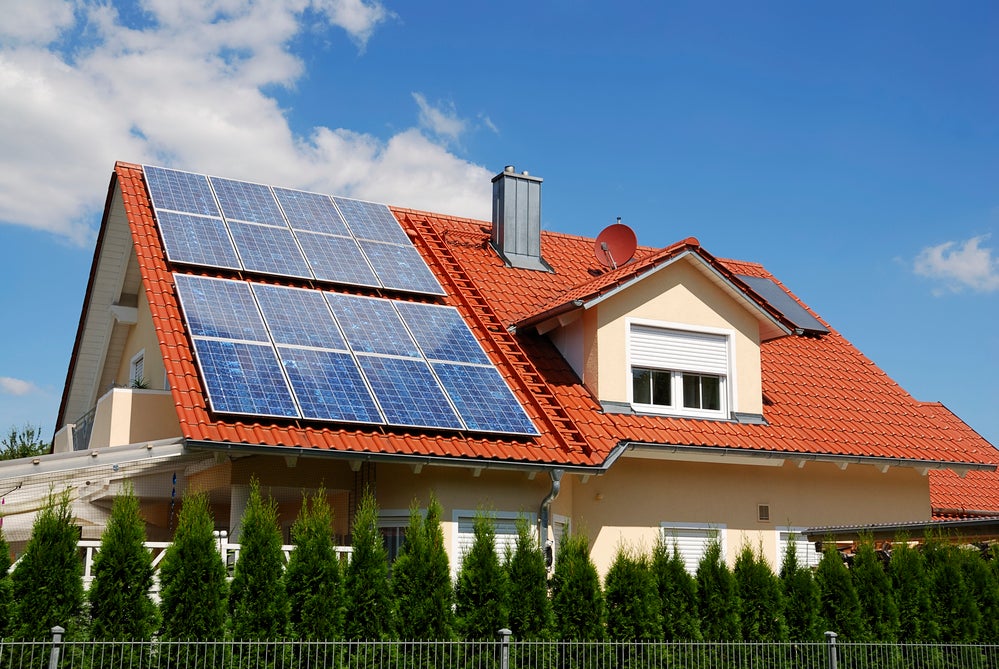 Off-grid v on-grid
On the very first hand, It is required to state that both off-grid and on-grid are popular among the people in today's time. People generally like to use more off-grid Solar kits because they don't want to be dependent upon the local power companies. On the other hand, if you use an on-grid Solar kit, that is the grid is tied to any solar system, then if the great goes down the entire solar power will become useless. To run solar power kits off-grid one requires batteries. 
On-grid solar power kits are very expensive because there much goes behind the connectivity as well as their mechanism is very high. On the other hand, an off-grid solar power kit is comparatively reasonable. 
Some off-grid solar kits to run a house
Below, some of the popular oof=grid solar power kits are mentioned:
Complete Off-Grid Solar Kit – 4,000W 120/240V Output / 12VDC [Choose Battery Bank] + 600 Watts Solar | Off-Grid, Mobile, Backup [OGK-8]- It is priced at $4,289. This Solar kit is claimed to be one of the most powerful and complete off-grid solar power kits. It can provide power to anything in an off-grid situation. It is also Expendable and has the benefit of adding more batteries and solar panels if required. This Solar kit can also handle 240 voltage output for powering things like a well pump. 
Complete Off-Grid Solar Kit – 6,000W 120/240V Output 24VDC / [7.2Kwh-15.8Kwh Battery Bank] + 6 x 200 Watt Solar Panels | [OGK-10]- It is priced at $7,159. This Solar kit has Lithium batteries which enable the solar to double its capacity. This solar panel with  6 hours of rough sunlight can produce around 7.2kw of power each day. This is clean to be one of the best solar power kits for home backup or a midsize are we system or mobile business applications. In these solar kits, you will get at 1200 words of monocrystalline solar panel, a 6000 watt of pure sine inverter charger, and the complete off-grid AGM kids that provide 120 and 240 voltage of AC power. It also includes AGM batteries. 
Complete Off-Grid Solar Kit – 13,000W 120/240 Output 48VDC / [14Kwh-31.6Kwh Battery Bank] + 4,380 Watts Solar PV | [OGK-1] – Updated- It is priced at $13,989. This off-grid Solar kit is claimed to be one of the most powerful, reliable, safe off-grid solar power kits on the market today. With this, one can power anything and everything in an off-grid situation. This solar kit has a 13000-watt split face which can provide 120 voltage and 240 voltage output. Therefore with these solar kits, one can power and run appliances like an air conditioner, well pump, lights, refrigerator televisions, fans, kitchen appliances, etc. The Solar kits can be recharged with only just 5 hours of good sunlight. 
Conclusion
Off-grid solar power kits are generally better than on-grid solar power kits because of their independent nature. It is also reasonable and easy to install.