Cold-rolled steel sheets are commonly used to make perforated sheet metals, punched or stamped to generate holes. These metal sheets can be produced from various cold-rolled steel or even aluminium. It's improbable that you'll come across a modern structure that uses something other than perforated metals due to their many purposes. 
Perforated metal sheets have several uses and benefits. To begin with, they're a sustainable construction option that allows you to lessen your impact on the planet. As an additional benefit, they can significantly enhance the acoustics and ventilation of a building.  
Perforated sheet metals are long-lasting and can increase the quality of any construction project or building, and they can be made of steel, metal or any alloy. Learn more about the fundamentals of perforated metals and the different ways to use perforated metals as décor by reading this article.

What Are Perforated Metals 
Metals such as steel, aluminium and stainless steel can all be used to create perforated metal panels. For example, they can be utilised for ventilation, soundproofing and visual inspection. The holes in certain perforated metal sheets are hexagonal, whereas those in others are wider and more commonly square.
Besides being a stylish addition to any structure, perforated metals can save money by allowing more light and air. Like any other building material, perforated metal panels must complement their surroundings aesthetically. 
Perforated metal sheets can have any number of intricate patterns cut into them, with holes of varying sizes. A typical perforated hole size ranges from a few millimetres in diameter to a few centimetres. The metal sheet must be thicker if larger holes are to be cut into it.
There are many different perforation patterns available for bespoke perforated metal sheets, allowing for one-of-a-kind signage and other interior design features.

How To Use Perforated Metals As Décor
There has been a rise in the use of perforated metal in many settings. Now that decorative perforated metal comes in large sheets, architects and interior decorators are looking into how it could be used in building homes. Some experts even modify the perforated metal with different cut styles on metal for a more sophisticated look.
With the rise of industrial aesthetics in home decor, metal is being used innovatively. The following are some potential architectural applications using perforated metal.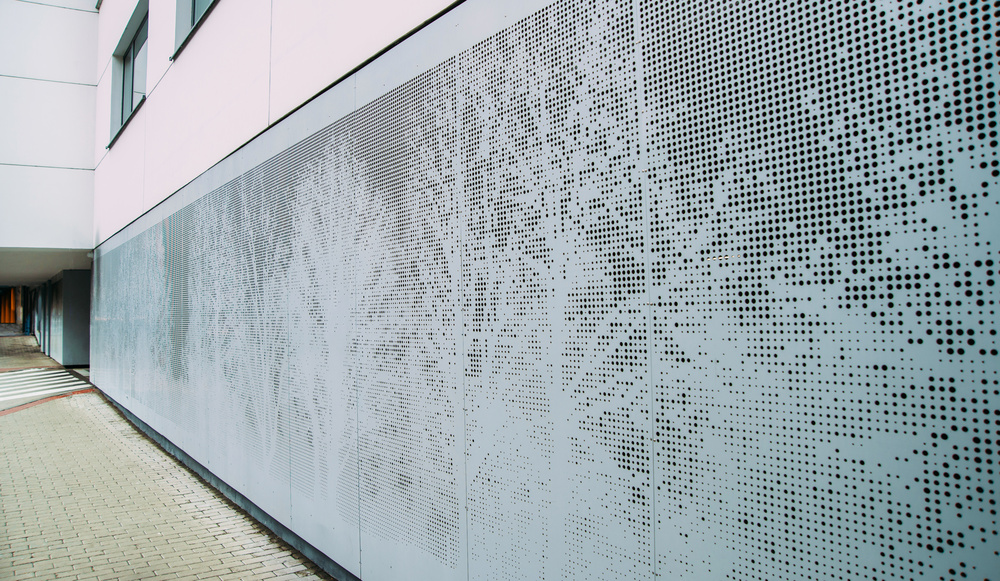 Add Depth With Suspended Ceilings
Benefits abound when perforated panels are used in place of ceiling tiles. Thanks to the design options available for colour, pattern and perforation diameter, the panels improve the visual appeal of any place they're installed in, whether an office, a conference room or a finished basement. 
Perforated panels muffle noise and hide unsightly but functional things like wiring and air conditioning units in the ceiling. Because they can be removed quickly and easily, they facilitate easy access to utilities, including HVAC systems, pipes, and electrical wiring for maintenance personnel. Consider adding LEDs within the panel for better overall lighting.
Without extra vents or uncovered ductwork, central air systems may rely on the perforations for air circulation. Perforated metal could be the best option for your next project, whether you're furnishing an assembly plant with statement pieces or installing soundproofing panels in someone's basement.
Grab Attention With Eye-Catching Facades
Perforated metal is frequently used for facades. The many design options available for facades allow for striking focal points and added aesthetic appeal. Architects can put their touch on a project because of the flexibility of the design process.
Moreover, metallic facades are highly useful and attractive. The metal panels' perforations let air and light through while shielding inhabitants from the sun's damaging rays. Panels can be installed in front of windows or other openings to allow natural light while protecting those on the other side from the sun's harmful rays.
Additionally, these panels can prevent rain, snow and other severe weather in outdoor settings from affecting the interior. Plus, depending on the metal, they only need a little upkeep.
Avoid Slipping Hazards With Well-Designed Stairs
Perforated metal is best used on stair treads. These panels are a fantastic option for outdoor stairways. The metal has holes cut into the holes to prevent water from pooling on the stairs and posing a safety danger. Besides improving structural stability, the surface texture also increases slip resistance. 
You need not restrict yourself to merely using treads on stairs. Also, stair risers can be made of perforated metal. If you have children or pets, it's probably not a good idea to use metal for the treads and risers of the stairway, but if you want to make a statement, consider using a non-metal material for the treads and risers.  
In some cases, especially in industrial settings, enabling light and air to enter through the stairs can prevent the dark and dreary mood of stairwells and add to a bright and airy feeling to the stairs.
Takeaway
Perforated metal can protect buildings from the sun and other damaging factors. It can be used on ceilings and stairs as well, aside from facades. It's truly one of the versatile home décor materials out there.