Choosing which area to remodel can be a head-scratcher for homeowners. Many argue it should be the living room first, but there are equal numbers of people who claim the kitchen or the bathroom should be the first on your list. 
With so many conflicting opinions, it's hard to know where to start. But we're here to tell you to forget about your rooms altogether. Your first renovation shouldn't even start indoors at all. Instead, you should shift your focus on what visitors and neighbours truly see first — your exterior, particularly your entryways. 
Redesigning your exterior home design could significantly raise your home's curb appeal and market value. But you don't have to go all-out immediately. Start small and redesign the area that gets the most engagement outdoors. 
Below are several best entry door and window design ideas you can try. 
Maximize Your View 
You must allow more natural light indoors to give your home a breathable feel. Most homeowners achieve this by incorporating enormous floor-to-ceiling windows in their walls. 
This renovation requires some considerable construction. If this isn't in your budget, you can artificially make them look bigger by reducing the muntins or grids. This strategy tricks the eye into thinking your windows take up more space. 
With entryways, adding sidelights and transom windows brings more light in, especially in areas like a coat or shoe rack, which is convenient for leaving or entering homeowners and guests. Brightening up these areas make it easier to see what you're doing during the day. 
Placing these windows near your doors also maximizes your view to the outdoors and connects you more to the natural world. Plus, they also make your standard-sized door look bigger. 
Double Entry
Double or French doors add a focal point to your overall exterior. They're stylish, upgrading the look of your home immediately. But, more importantly, they're functional and add more space for homeowners to haul big furniture or welcome more people indoors. They also provide that breathable feel when opened on a nice, cheerful day.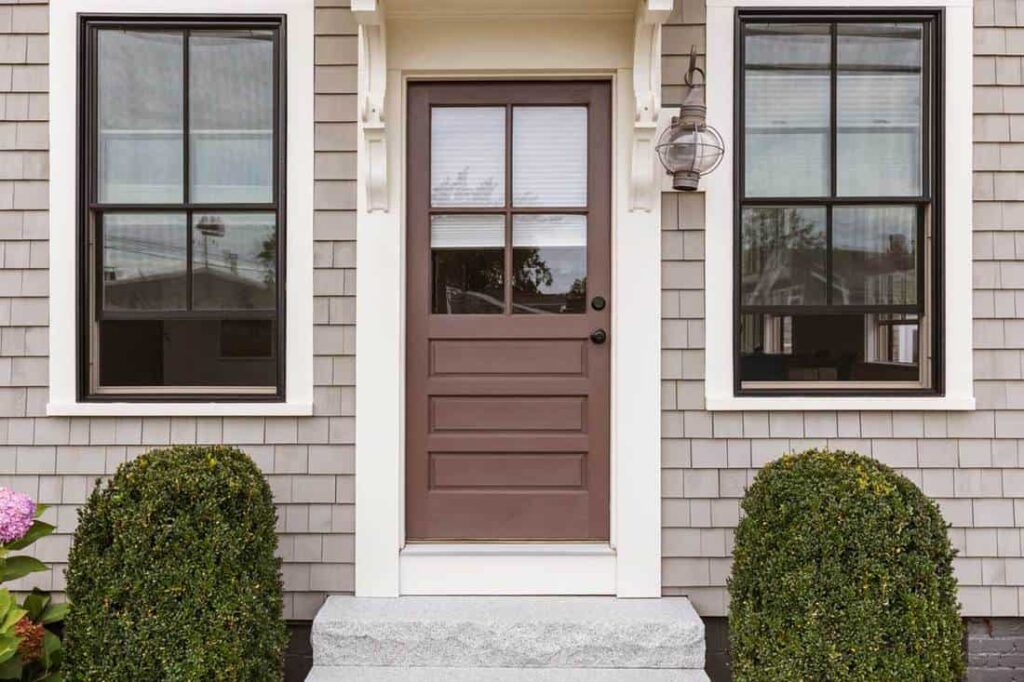 The great this about double or French doors is their versatility. You can go with any material that fits your needs and exterior design. You can also go for various styles, like doors with engraved panels or sidelight openings. 
Colour Combinations 
When renovating your exterior, don't forget about colour. Splashes of colour can refresh tired architecture without requiring major renovations. 
Try painting your door frame and window panels white, and have your door and sidelights in rich burgundy, black, or any dark colour to emphasize that beautiful contrast. Dark entryways add elegance and sophistication to your exterior design. Incorporating a contrasting look just cements that feeling. 
You can also use monochromatic hues to allow your porch accessories (like railings, planters, and sconces) to shine. There are various colour combinations and techniques you can choose from when redecorating your entryway, each of which has its theme and meaning. 
Repurposing a Concept 
Split or Dutch doors are now moving from stables and back entrances to the front of the house because many modern homeowners are turning them into beautiful entry doors. They provide a unique charm, and, above all, they offer security. 
For example, when someone's at the door, you can open the top half only to interact with that person while keeping the bottom half locked. Plus, you can keep your kids and pets indoors without shutting the natural light and ventilation out. 
Contemporary-Minimalist
Most modern homes opt for sleek-looking doors paired with one full-length sidelight. For added visual interest, window and door manufacturers will propose substituting patterns with shapes or clean lines, like four square glass panels or vertical windows, for that contemporary finish.
Bonus Tip: Start Small 
Switching gears from the inside to the outside simplifies things greatly. That said, it can still be daunting to take on all your exterior features at once. If you (or your budget) are feeling overwhelmed, start small. 
Sometimes significant changes can come in small things. Try redesigning the hardware of your entry doors and windows, like their knobs, handles, and knockers, to make an eccentric accented design. Starting this small can help you gauge how much further you should go with your design changes. 
Welcome Change
There are a lot of areas you can remodel if you want to raise your home's curb appeal. Your entryway is the perfect place to start for a simple change that impacts your overall exterior design. From simple colour changes to adding functionality, these design tips can help you remodel your entry doors and windows beautifully in a way to increase your home's value.