The dining area is the heart of your restaurant. After all, that's where conversations occur, and your guests sit back, relax, and enjoy the lip-smacking food for a wholesome dining experience. Needless to say, the furniture in your restaurant must be appealing and comfortable for your guests and easy on your pockets. From interiors to food quality, from service to hygiene, you have thought of everything! But have you made an informed decision about your restaurant's table tops? Do you want laminate table tops or marble, glass table tops or solid wood? The options are plenty. Read on to know how to select the best table top for your indoor restaurant:
Importance of Table Type in Restaurant Furniture:
The table in your restaurant is a crucial design element and the type of table you select tells a lot about your personal taste. Apart from reflecting on your restaurant's class, it sets the tone of the dining experience for your guests as well. After all, the style and type of restaurant tables differentiate a steak house from a pizzeria or a bistro. Moreover, restaurant furniture requires significant investment and, therefore, you must choose them wisely. As there are many table types and style options, finding the perfect table for your restaurant might look like a daunting task. However, if you understand your requirement, know your budget, the table top material, etc., you can make a well-informed decision easily.
Understanding the Laminate:
Before using any furniture material in your restaurant, it makes sense to understand its nature and properties. Laminate, constructed by pressing the layers of high-strength paper together with melamine, is a unique material. This process creates a hardened resin material known as solid veneer.  Decorative layers and protective coatings then transform the material for furniture use. Finally, fiberboards, known as substrates, give strength to the laminate and make it suitable for commercial use. All in all, laminate is a versatile, customizable, durable, and affordable furniture material.  Depending on the fabrication process, laminate is available in two categories:
High-pressure Laminate (HPL): The manufacturing process uses high-pressure (up to 1,500 psi) and lower temperatures (280-320 degrees Fahrenheit) to attach the substrate core with the laminate using adhesives.
Low-Pressure Laminate (LPL): Adhesive-free attachment of substrate core with laminate takes place at lower pressures (290 – 435 psi) but higher temperatures (335-375 degrees Fahrenheit).
Although both these processes result in durable products, low-pressure laminates are relatively cheaper than their high-pressure equivalent.
Why Laminate Tables Are The Preferred Choice For Restaurant Table Tops:
Whether it is home or office, bar or restaurant, laminate table tops continue to be a popular choice. They are trendy yet affordable, durable yet versatile – a perfect addition to any theme. Plenty of things go in favor of laminate tables as the preferred choice in your restaurant. Here are some of the major points that prove why laminate table tops are the best choice for any restaurant:
1. Less Expensive to maintain and Easy to clean:
If yours is a restaurant that sees a lot of traffic, laminate dining tables can be your perfect ally. All you need is a damp cloth to wipe down the table for your next guest. As they are easy to maintain, it increases the table turnover and efficiency of your staff. Moreover, unlike wooden furniture, laminate tables come with protective coatings to resist water and liquid. As a result, you don't have to worry about spills with them.
2. Durability:
With laminate tables, they are scratch and stain resistant intrinsically, and build to last. The sturdy, durable laminate tables can endure the day-to-day wear and tear of any busy restaurant. Since they last long, you don't have to invest time and capital in replacing them frequently. The resilient composition and vibrant look of laminate tables ensure they look appealing and perform great even after years of continued use.
3. Cost-Effectiveness:
As a restaurant owner, it is only logical to save every penny you can, wherever you can, whenever you can. The simplicity of the material and its construction process makes laminate affordable when compared with other options like timber or solid wood. Moreover, apart from initial savings, the operational savings on maintenance or replacement can be significant in the longer run.
4. Customizability:
Laminates are probably the most customizable furniture materials. The manufacturing process allows you to make different decorative designs, patterns, and inlays on dining tables. Laminate, being a synthetic material, gives you the flexibility of matching it with any theme of your restaurant.
5. Versatile Properties:
Laminates have flame retardant properties that make them a go-to choice for restaurants. They are heat-resistant, and you can use them in your restaurant's kitchen as well as the dining area. Similarly, the antibacterial properties of laminates make them an ideal choice for a hygienic dining experience, especially in post-Covid-19 times.
6. Variety of Style Options:
The beauty of laminate tables is that you can get custom designs in various styles and color schemes. Coordinating color and style option with other design elements is effortless with laminate tables. From wood-grain patterns to latitude color schemes, possibilities are endless with laminate tables. Moreover, availability in different textures, hues, and shades makes it convenient to order custom laminate table tops that match with the interior design of your restaurant.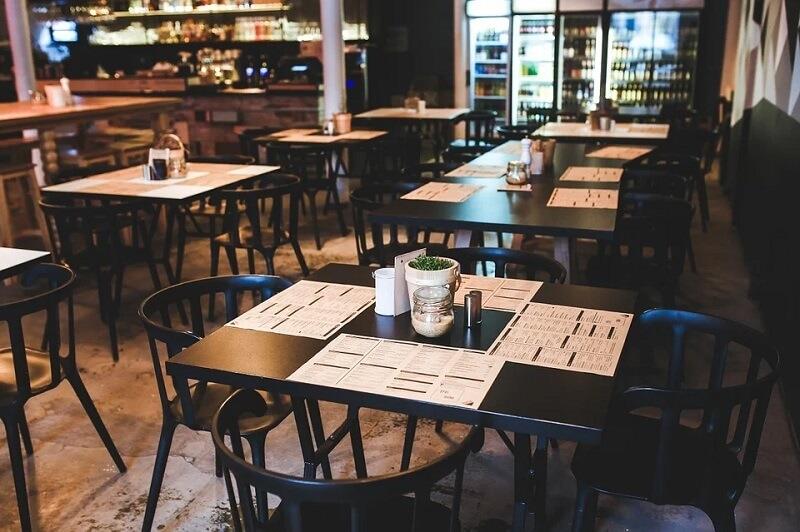 Choosing restaurant table tops depends on many factors – your budget, your restaurant type, and its theme.  Laminate table tops have got it all. They are available in many colors, strains, patterns, and finish that blend effortlessly with your restaurant's ambiance. Not only that, their elegant look might even enhance your restaurant's theme and decor. More importantly, they are affordable, durable, and easy to clean or maintain. In a nutshell, laminate restaurant tables are the owner's dream and the customer's delight.
This article highlights why it makes sense to invest in laminate table tops for indoor restaurants. Hopefully, by going through these points, you will be able to find the perfect restaurant table that gives you less headache and more profits.