Keeping your property in good condition is very important. Part of this includes making repairs and replacing faulty parts of your home when necessary. One fixture in your home that may need to be replaced is a faucet in a kitchen, bathroom, or other areas of your home. If you have a faulty faucet, it could lead to water leaks, higher bills, and annoying dripping sounds. There are various signs you should replace your faucet, which could help you avoid these challenges.
Dripping Faucet
One of the signs that you will need to have your faucet replaced is if it is dripping. If you have a faucet that is slowly dripping water, even when it has been turned off completely for more than a few minutes, it is a sign that something is wrong with the faucet. While this can sometimes be fixed by tightening fixture in the faucet, there are situations when it needs to be replaced entirely.
Poor Water Pressure
If you turn the water on and the pressure is low, it can be a frustrating experience. If you notice that the pressure is getting worse, it can be a sign that your faucet needs replacement and repair. The poor pressure can be due to corrosion or debris buildup. While it could be cleaned out, it is often more practical to simply replace the faucet entirely.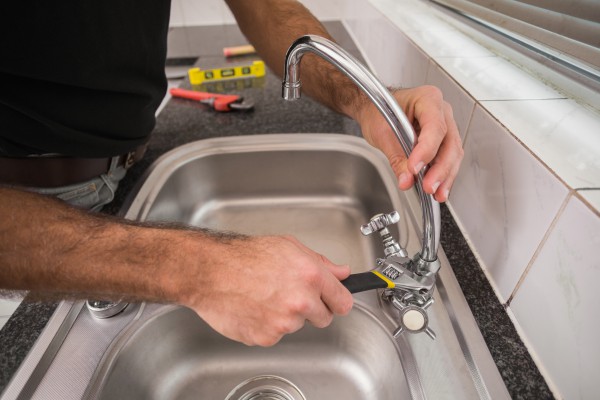 Odd Colored or Tasting Water
When you use water in your home, you should expect that it will come out clear and clean and be safe to use. If you notice that the water tastes odd or sour or has a hint of brown in it, the issue could be due to a buildup of corrosion or mineral deposits. In many cases, this will result in needing you to replace your faucet. You should have your faucet evaluated by a plumber as the issue could be due to challenges with the pipes or further plumbing problems.  
Faucet is Old
A kitchen or bathroom faucet can be quite durable and last for a long time. However, they are not designed to last forever. With proper cleaning and care, and expect that the faucet will last for over a decade. If it is more than 15-20 years old, it may be time to replace it as it is bound to require repairs in the near future. Further, replacing the faucet after this amount of time will help to modernize the room in your home.
Mold or Moisture in Cabinets
A leaking faucet may not always be noticeable if it is leaking slowly. However, each drip will add up over time and could lead to the accumulation of water in the cabinet beneath the sink. If this goes unchecked, it can lead to the growth of mold and further damage that takes more effort to clean up. If you do notice any mold or moisture, your plumber will be able to make the repairs or full faucet replacement to ensure the drip stops. Depending on the level of damage, you may need to have the cabinets or flooring fixed as well.
Unresponsive Handle
Any faucet is going to have a handle or other lever to turn the water on and off. If the handle does not work to turn the water on or off or adjust the temperature, it could be a sign of a damaged faucet. Having it replaced may be necessary to ensure you have proper control of the water supply in the sink.
Having quality faucets in your home is very important as it ensures that you continue to have accessible clean water. While faucets can last for a long time, they will eventually require maintenance or replacement. There are various signs you should replace your faucet that you should look out for. If you are experiencing any of these issues, you should consider having the faucet replaced as soon as possible.