Decorating a college dorm is a lot different from decorating a normal apartment. Firstly, you have stricter rules to adhere to, and secondly, the chances are you'll only be there for a year. That doesn't mean you can't make your room shine, though, and during your first year of college, it helps to have somewhere comfortable to crash at the end of the day. Here are some simple ways to spruce up your college dorm.
Add New Lights
Dorm room lights aren't known for being the most attractive but don't worry, as you can bring your own. Plugging in a table lamp and hanging some fairy lights can completely transform a space by making it appear warmer and more comfortable.
While there are usually rules against lighting candles, Hemsly offers excellent illuminate flameless candles, so you can achieve that candle aesthetic without risking setting the smoke alarm off.
Store Items Under the Bed
If your dorm room is small and you have a lot of items, it's time to get creative with the storage. Under the bed is the perfect place to keep all the belongings you don't use regularly, so place some drawers under there for extra space elsewhere.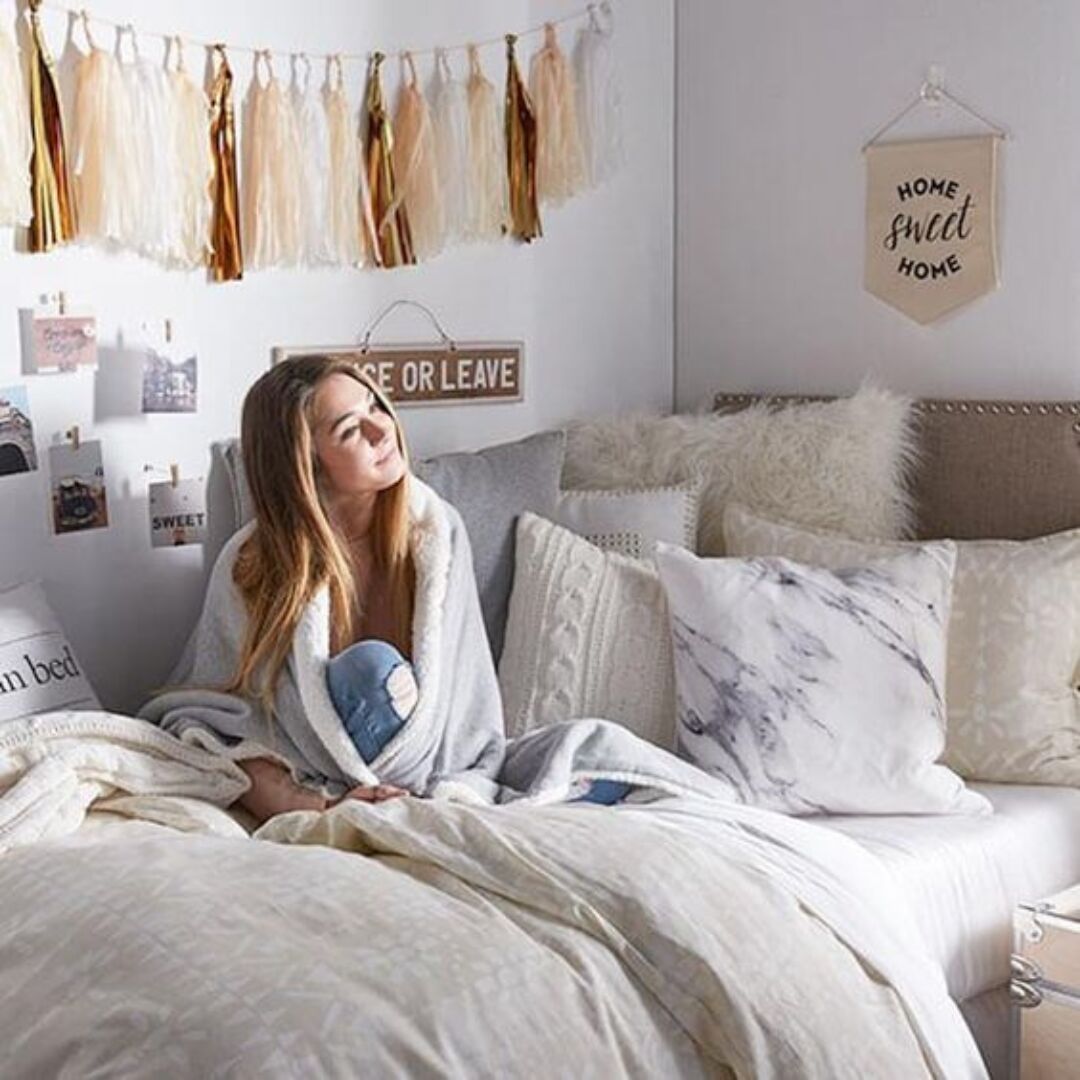 Keep Plants
College brings a lot of responsibility, so why not get extra practice by taking care of a plant? Plants can really lift a space, so purchase a couple for your desk and take care of them, so they stay healthy throughout the year.
Hang Photographs
College can be a scary time, especially if you're moving far from your home town. Hanging photographs of your family and friends from home is a great way to comfort you when you're feeling homesick. It'll remind you that you still have people you love away from college; plus, it is an easy way to decorate your space.
Throw Down a Rug
If your dorm room needs a splash of color, then one of the easiest ways to give it that is by throwing down a rug. A rug can bring a room together without much effort, and there are plenty of different styles to choose from.
Cushions, Cushions, Cushions
The chances are you won't be the only one enjoying your dorm room throughout your college experience. To accommodate more people in such a small space, throw cushions around the place so people can have a seat anywhere. Plus, it'll give the room a cozier feeling overall.
Hang a Tapestry Over the Bed
One of the easiest ways to decorate a wall without hanging up lots of art and posters is hanging a tapestry. They are large, so they will jazz up the wall space above your bed with minimal effort. There are plenty of designs to choose from, so no matter what your aesthetic is, you are sure to find a tapestry to suit it.
Your college years should be some of the best times of your life. While you will be busy making friends, attending seminars, and making the most of campus life, you should also make sure your dorm room is well-decorated and comfortable.