You might know Myrtle Beach as the vacation hotspot of South Carolina. However, what remains shadowed by its tourist popularity is, the place is one of the best to live in South Carolina; be it after retirement or to get a fresh start. The south has always been a desirable retirement place for many Americans. But Myrtle Beach has much more to offer than the golf courses, sandy beaches, and entertainment. Deep down, it has the essence of a beach town that will manifest only to those who live here.
If you are considering moving there, the following is a list of some of the best neighborhoods in Myrtle Beach.
1. Arcadian Shores
Arcadian Shores is a northern Myrtle Beach community that provides easy access to the northern business hub of Myrtle Beach- the restaurants, shopping malls, entertainment hubs like Barefoot Landing, North Myrtle Beach Park, and sports complex. And to complete the package, the beach is just a minute's walk from the community.
The most attractive point of living in the Arcadian shores neighborhood might be its close location to Myrtle Beach, North Myrtle Beach, Georgetown, and Morels Inlet. And the nearby highway 17 and its bypass made it possible for the residents.
Most of the houses are built as single or two-storied. The houses mostly follow ranch or colonial-style architecture. Some of these wood and brick-made houses are even 40 years old. Many homes are within the $400k to $700k range. You can check out homeguidemyrtlebeach.com to find new house listings at Arcadian Shores.
2. River Oaks
River Oaks is located just near the Carolina forest section in Myrtle Beach. While the neighborhood is a little secluded from the main beach area and all the tourist attractions, River Oaks will still provide you with convenient shopping, restaurants, and other entertainment experiences.
This place is also known as the resort area in Myrtle Beach. It is neither a new development nor an old neighborhood. The townhouses were built about 20 years ago and with the grown trees and landscape, one will get a well-established community vibe here.
The most charming fact about living here is that the majority of townhouses and condos overlook the vast greenery of nearby golf courses. With separate outdoor living areas, pool areas, tennis facilities, this community is rather self-sufficient in terms of living an active life. And when you want a change of scenario you can visit Myrtle Beach just driving along highway 501.
3. Plantation Point
Plantation Point is one of the high-end communities in Myrtle Beach. The houses here are custom-built, so you don't have to worry about living in a neighborhood where all the houses look the same. The size of the houses varies; you can get houses as small as two bedrooms or as large as nine bedrooms. Or you can get a vacant lot and build your home. To get private docking access, consider buying a property near the lakes.
The location near the Myrtle Wood Golf course makes it more appealing to golf lovers. And plantation point might be the most conveniently located district in Myrtle Beach to live in. You can just get anywhere from plantation point easily like, Myrtle Beach airport, Broadway at the beach, or daily necessities like shops, banks, medical facilities, or restaurants are all within minutes reach. One more interesting fact about the Plantation Point is there are no HOA fees here.
4. Ocean Bay Townhomes
Ocean Bay Townhomes is a perfect neighborhood for those who are looking for a more modest and affordable property in Myrtle Beach.  Located near Carolina forest, The three-bedroom townhouses are a fairly new development in Myrtle Beach.
Aside from the relatively low price, the convenient location is another winning point for Ocean Bay. It is located near highway 31 which makes it easy to travel to North Myrtle Beach, Myrtle Beach, and Conway. Ocean bay is also convenient for new families; schools, shopping, groceries, or doctor's office all are within a drive's reach here. The property price ranges from $100 k to $200 k.
5. Grande Dunes
Located between Myrtle Beach and North Myrtle Beach, Grande Dune is another luxurious neighborhood in Myrtle Beach. With picturesque waterfront villas and stunning landscapes, the architecture here is different from the rest of Myrtle Beach.
The easy access to the marina and boat ride is yet another attraction of living in Grande Dunes. Residents can also get membership of Grande Dune Ocean Club and Grande Dune Golf and Country Club. The property price starts at 1 million for a built home and 200k for a vacant lot.
6. Carolina Forest
Located between Myrtle Beach and Conway, Carolina Forest is the perfect place for those who love to live near the green. With nearly 46% of Carolina forest being a conservation area, there is a feeling of serenity here that is hard to find elsewhere in Myrtle Beach.
With pine and hardwood trees that are beyond 100 years, the conservation forest is enough of a reason to live here. And don't think it is the serenity, nature, and secludes that Carolina forest all has to offer. Golf lovers will have the time of their life living here.
From modern-style architecture to classic colonial-style homes, Carolina Forest has an array of styles and building timelines to choose from. Besides the golf courses, Carolina forest also has notable commercial and residential development. For instance, the Tanger's outlet at US 501 can provide you with a wholesome shopping experience.
7. Briarcliffe Acres
Located just below the downtown north Myrtle Beach, Briarcliffe Acres is a fairly new development in Myrtle Beach. And there is an upside to living in this downtown Myrtle Beach community; you will be away from all the hustle and bustle of the town. While it is located near highway 17, with thick tree-lined buffer and brick boundaries, the noise from traffic never reaches inside the community.
And even if you do want some occasional indulgence in the bustling city life, it's just a minute's drive away from the place. The Tangers outlet at US 501, the famous restaurant row, or barefoot landing all are within easy reach from Briarcliff acres.
The building style has an eclectic collection ranging from simple single living homes to large mansion-style homes. The majority of these properties have private beach access and cabanas, rendering a Mediterranean vibe within the neighborhood. The property price in Briarcliff ranges from $450 k, up to 2 million.
8. The Dunes Club
You might already have learned about the Dunes Golf and Beach Club from our discussion.  The dunes club is one of the luxurious and exclusive neighborhoods in Myrtle Beach.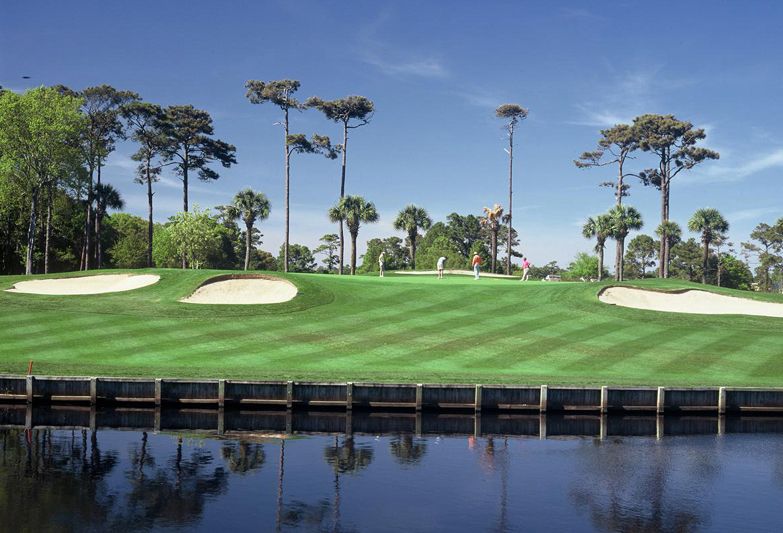 Renowned for the luxury resort and spa, the dunes club also has its fair share of tourist traffic. However, these community homes offer private beach facilities for homeowners. So if you own a beachfront property here, you can rest assured your privacy won't be disturbed by the tourists.
Aside from the resorts and spa, this community boasts its own 18 hole golf course and international-level tennis courts. However, considering all the amenities and the fine convenient location, you might have guessed it will make a dent in your savings to buy a property here. Most of the homes start from 500k, which is well above the average in Myrtle Beach.
9. Market Common
Market Common is one of the oldest yet prominent neighborhoods in Myrtle Beach. Renowned as a business hub with many restaurants and shopping facilities, living in Market Common will provide you with all the urban facilities within minutes' reach.
Besides, market common's proximity to the beach makes it an ideal home for beach lovers. Imagine being able to feel the Atlantic crashing right at your feet every day!
10. Windy Hill
Windy Hill is as charming as the name sounds. If you are looking for a place close to the beach, yet you won't have to break the bank, a windy hill might be what you are looking for. Despite being close to North Myrtle Beach, the property price at Windy Hill is relatively low.
The convenient location of Windy hill provides easy access to both the Atlantic and the Intracoastal Waterway, making it a desired place for beach lovers.
The Bottom Line
Myrtle Beach offers a myriad of options when it comes to relocation. However, each of these neighborhoods has its own perks and downsides. Some are best for senior residents looking for a serene post-retirement life, whereas some are suitable for new families hoping to enjoy suburban life. Whether it is the growing residential and commercial development, or the prospect of living somewhere south surrounded by nature, the growing property price in Myrtle Beach only indicates the real estate scenario is going to be more competitive. And the demand for a suburban second home has skyrocketed after the pandemic. If you are thinking of relocating here, just take your pick before the property prices go crazy. To explore the places hassle-free and very convenient, you might want to rent the best Van In Black that offers comfortable and stylish vans and SUVs that fit your demand, whether small or big group of people.