Kitchen cabinets aren't meant just to be a throwaway piece of your kitchen. They are vital to the kitchen's function and aesthetic. They are meant to be a long-term investment that can withstand years of use and even multiple kitchen renovations. To make a kitchen feel like home, you need high-quality kitchen cabinets. These are the top ten characteristics of high-quality kitchen cabinets.  
Plywood Construction 
The most durable kitchen cabinet boxes are built out of plywood sheets. They are stronger than particle board and are better at handling the weight of countertops and heavy dishes, not to mention are less likely to be damaged during installation and transportation. Plywood holds screws, fasteners, and glue better as well. It is even more resistant to water damage and moisture.  
Plywood is the best option for your kitchen cabinets because it is made with multiple layers of wood running both crosswise and lengthwise. The cross-grain makes for a stronger material that will hold up for years.  
Full-Height Back Panel 
A straightforward way to tell the difference between cheap and high-quality kitchen cabinets is whether they have a full-height back panel. A cost-cutting method uses thin back frames (less than 3/8 of an inch), hanging rails and brackets, or a frame. However, they don't have the same support as a full-height back panel, and full back panels make it easier to attach to walls.  
Soft-Close Hinges 
Soft-close hinges are crucial to having long-lasting kitchen cabinets. They ensure your cabinet doors close smoothly and softly. These hinges prevent the door and box from being damaged by violent slamming and make your home more peaceful by keeping it from being too loud. This damage could shorten the lifespan of your kitchen cabinets. The six-way adjustable hinges ensure your kitchen cabinet doors get the full range of movement, and if the wood expands or contracts with the seasons, you can adjust the hinge, so the door opens fully and closes completely.  
Soft-Close Drawer Glide 
Everything said about doors also applies to drawers. Soft-close drawer glides are vital to long-lasting cabinets. They prevent damage from slamming and keep it quiet. More importantly, they keep the drawer from wearing down over time as you open and close it day after day, multiple times a day. Quality drawer glides can hold up to 90lbs, preventing sagging from constant use. Even after years, they won't sag, get stuck, or suffer damage.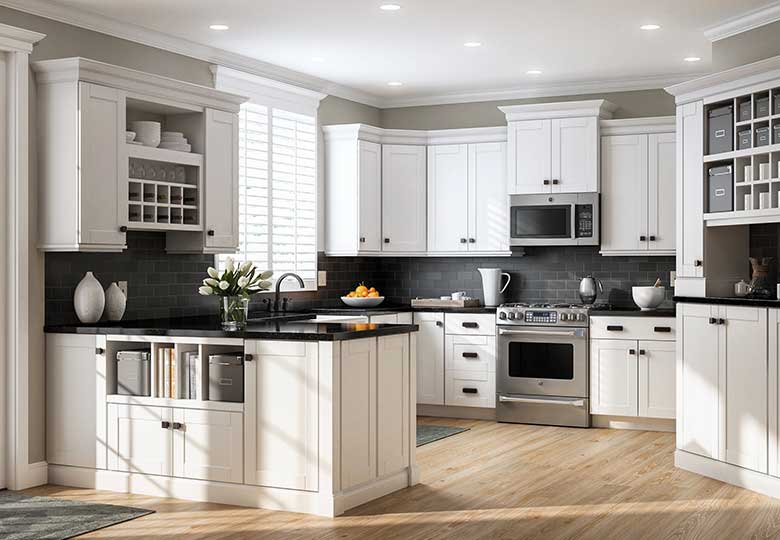 Hardwood Dovetail Drawer Box 
Hardwood dovetail drawer boxes are another component of high-quality kitchen cabinets. Dovetail joints are used to hold interlocking joints in a drawer box together better than simply screwing or gluing them together. This way, the drawer isn't being held together by just the glue but by the wood itself. And if you build it from a hardwood that's 5/8 of an inch or thicker, you know that it will hold up better for longer.  
Face Frames 
Frames are an important part of high-quality kitchen cabinets. They help everything move smoother, increase cabinet stability, and reduce stress on the cabinet box. The frame protects the cabinet box from impact with the cabinet door and drawer and helps keep them in place. Hinges and drawer glides can be installed directly onto the box's frame so it doesn't have that additional stress. A frame gives the cabinet extra support so it doesn't sag or bend out of shape over time or during transportation and installation.  
Customization 
Nothing quite says quality like a personalized touch. No two kitchens are the same, and many need some customization to fit correctly. Having at least a little bit of customization helps you find the RTA kitchen cabinets that work best for you in the size, style, and color you need with any additional features, such as corner cabinets, that fit your kitchen.   
Quality Interior 
A quality interior for your kitchen cabinets is just as important as the exterior. It needs to be tough and easy to clean. A smooth and nonporous interior is preferable, as it is also easy to clean with simple wiping. An interior such as melamine prevents staining, scratching, and bubbling even after years of use.  
Toekick 
Toekicks are easy to overlook but will make your life so much easier. A toekick is a small space between the floor and the base of the kitchen cabinets. It's a space for your toes to go while working in the kitchen. They include a panel to prevent dirt and crumbs from getting underneath. A quality kitchen cabinet needs a toekick, so you have space to get closer to the counter while cooking without leaning over.   
I-Beam 
I-beams help support your base kitchen cabinets. The I-beam is a ½" stretcher used to secure the upper side of base cabinets. They help the cabinets support the weight of the countertop above it, putting less strain on the cabinets and extending their life.  
Quality Kitchen Cabinets at White Cabinets 
When shopping for cabinets, it's essential to know how to look for high-quality cabinets that will stand the test of time and be a fixture of your home for many years to come. At White Cabinets, we have a wide selection of high-quality cabinets, so you can be sure you'll find the right style, color, and size to fit your kitchen. Shop with us today!