Couches are incomplete without a rug to complement them. Whether it is a living room couch, a compact bedroom couch, or the one in your study, it surely needs a rug to complete the look and make the room look more put together and sleek. One of the most versatile and universal couch colors is beige. Beige couches are always in trend, everyone's favorite, and complement all types of home settings. From contemporary and classic to modern style houses, beige couch goes well with almost all types of homes. What you need to finish the look is to find the perfect colors of rugs for beige couch.
A rug can bring the whole place together and add more texture and style to the furniture and other home decors. It is a perfect addition to your home decor as it will add comfy vibes to the place, making it more welcoming and warm. Since beige is a neutral color, it is not much of a hassle to find the right color and design of the rug to match it.
However, choosing the perfect color of rugs for beige couch according to your liking and the style of your house can be quite confusing and tiresome. To make this task easier and more fun, keep reading ahead and you will find what you are looking for and probably even more.
Rugs For Beige Couch
As beige is a neutral color and can be paired with the most shades of the colors on the palette, it is a simple task to choose rugs for beige couch. But even if it is simple, it is not as easy to just pick any color of rugs, and you are done. You need to know what combination of colors of rugs will suit your beige couch, the type of house decor you have, and if it will set fit to your tastes and preferences. Below mentioned are some of the most popular, fun, and elegant colors of rugs for you to choose from:
Multi-color Abstract Art Rug
Using a multicolored rug with a neutral base is a great idea to pair it with a beige couch. This style will add a pop of color to the otherwise simple-looking room. You can use it to add a statement piece of home decor to the place while keeping other things neutral and minimalist. You can use a tie and dye rug or an abstract print or painted bohemian rug to give the place a more casual and creative look.
The Monochromatic Look With Neutrals
Using other neutral colors like white, and tan shades will give the room a sleek and polished look. It is a very safe choice to make if you do not want to go over the top or want to keep the decor minimalist yet fresh and welcoming. You can use knitted jute to add texture and make the place look warm and cozy. Pairing neutrals can never go wrong so you can choose these colors of rugs for the beige couch without hesitating.A shaggy wool rug in tan color will also be a good choice to make for your beige couch and could match perfectly with the beige Mongolian sheepskin cushion in this blog on choosing cushions for a beige sofa
Animal Prints To The Rescue
Animals prints are a great way to go when it comes to rugs for beige couch. Black and white or brown and tan leopard prints on the rug will give a statement piece look in the room. You can also use cow prints which are very much in trend these days. You can use that design in either of the color combinations mentioned earlier. It is a fun and creative way to add some artistic elements to the decor of the home while keeping it elegant and chic.
Another way to include animal print in your home decor is to have a rug with zebra stripes on it. It will give you more of an edgy and classic look in the place.
Chocolate Brown
The perfect way to add some warmth, depth, and elegance to a beige couch is to pair it with a chocolate brown rug. This style of the rug will give the room a comfy and welcoming mood while making it look chic and elegant. You can use a woolen rug for this purpose. It will add the right amount of texture, color, and depth to the interior of your place. You can also use other darker or lighter shades of brown to achieve this look depending upon the type of look and vibe you want to create in the room. This color combination is perfect for both living rooms and bedrooms.
The Classic White
White is a very versatile color itself and a white rug will look very sharp and sleek when paired with a beige couch. It can be a challenge to keep it clean but it will be worth it. You will get a polished and elegant look with minimal effort. It is most certainly one of the best colors to pair with beige. That is why you can choose a white rug for your beige couch with closed eyes. That is how good of a pair these two colors make, especially when it comes to using them in home decor.
Go Natural With Jute
Natural handmade jute rugs are a great match for a beige couch. This combination will give you a modern bohemian vibe in the place when paired with a rug and couch. The natural material will add texture, depth, and warmth to the place, making it welcoming and cozy. Another positive aspect of having jute rugs is that they are quite low maintenance. You will not need to make any extra effort to clean it.
Go Bold With Maroon Or Red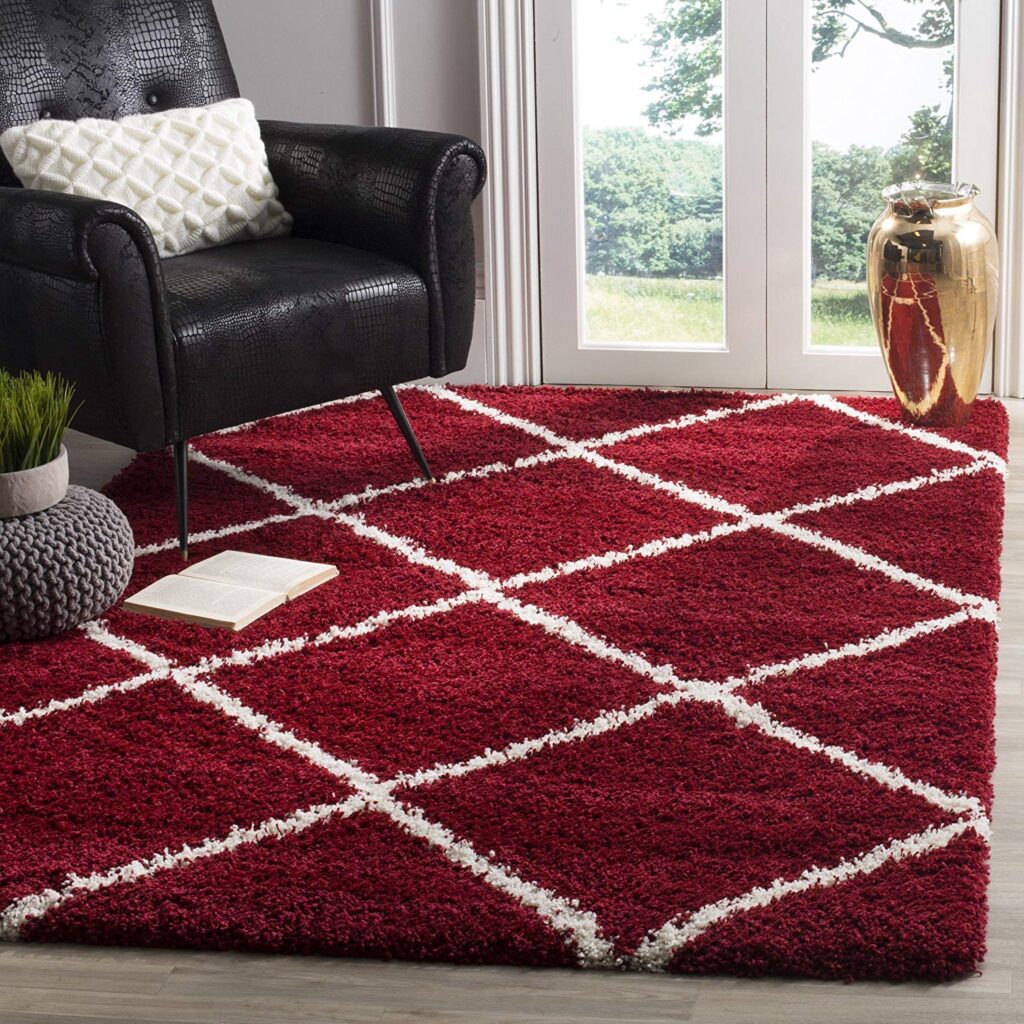 The combination of beige color with shades of red is classic, bold, elegant, attractive, and lavish as well. If you want to make a bold statement through your home decor, this is the path you should choose. A maroon or red rug will add a very attractive brightness and elevate the look of the whole place. You can create different vibes with different shades of red so all you need to do is choose the shade of red according to the type of mood you want to create in the room and the color will do its work.
Bring A Pop Of Color With Yellow
Yellow rugs will work well with beige. The color yellow will add brightness to the room and make it look more fun, lively and quirky. A yellow rug will be the center of attraction for the room and pull it together with its brightness and warmth. However, if you want a more subtle look, you can use a pale yellow color to tone down the brightness just a notch while still keeping the warmth and coziness of the color intact.
You can use a solid yellow color rug or add more texture to it by using a knitted woolen rug or one with a pattern to make it look more chic and classic.
Frequently Asked Questions
How To Wash A Rug?
The process of washing a rug depends on the type of material it is made of. Most of the time, the washing instructions are mentioned on the tag attached to the rug so it is advisable to wash the rug as instructed. It is also ideal to get your rugs washed at a professional place to prevent them from being damaged.
How Often Should I Clean The Rugs In My House?
Rugs should ideally be vacuumed every once a week or a maximum of one in two weeks in case it is placed in a bedroom or study where not many people visit.
Does The Color Of Rugs Get Faded?
The answer to this question depends on several other factors. You need to check if the material of your rug is colorfast or not. It is in most cases mentioned on the wash instructions manual or the tag attached to the rug. You can read the manual to make sure that you do not do anything wrong with the washing and cleaning process which may damage the color of the rug.